This FREE WEBINAR is organized by FounderMethod
Join Digital Malaysia's Initiative #MYCyberSALE 2014
(Malaysia's Biggest Online Shopping Days of the year)
A special invitation to help you boost your eCommerce Sales & Exposure
DURING THIS FREE WEBINAR YOU WILL LEARN:
1

Introduction to #MyCyberSALE 2014 - how this initiative can help e-commerce growth among Malaysia businesses

2

How Can You Benefit from participating in #MyCyberSALE 2014 ?

3

Registration Process to participant in #MyCyberSALE 2014 ?
Host: Evanna Phoon
(Founder of www.FounderMethod.com)
Speaker: Ms Carol Fung
MDEC (Manager of Special Project)
Author of Best Selling Book (MPH): 'Master Class Series: Carol Fung's Guide to Online Retailing
Share this page with your friends...
Speaker Profile: Ms Carol Fung
Ms Carol Fung has a total of 10 years of experience in E-Commerce Trading and Consultancy. She started her business from a mere hobby and now she manages her online business single handed.
She co-founded Chiica Consultation with her business partner, Ms Chris Chan. Together they work in partnership with eBay and PayPal in organising Exhibitions, Roadshows, Seminars, Conferences, Workshops and Trainings to create an awareness program to the Malaysian Community since 2006.
She was the Project Manager for MDEX (Malaysian Digital Enterprise Exchange, www.mdex.my) which was launched in July 2010. MDEX is a MSC Malaysia, a Government Initiative Project and it is developed by Multimedia Prospect Sdn Bhd. She has been working closely with Multimedia Development Corporation (MDeC) and SMECorp Malaysia in helping Malaysia SMIs and SMEs to make them understand how important the internet is in growing their businesses globally.
She travels extensively throughout the Malaysia conduct trainings and seminars for various association such as DPMM (Dewan Perniagaan Melayu Malaysia) and government agencies such as JPA (Jabatan Perkhidmatan Awam), MDeC, SMECorp & etc.
Currenly, she is helping GorgeousrGeeks (an NGO that was created for Women who uses ICT for their careers or businesses) which various projects ranging from organising workshops to facilitate netpreneur programs run by various government agencies.
Ms Carol Fung holds an Advanced Certificate in Chartered Institute of Marketing (CIM, UK).
She is also a Certified Trainer By eBay SEA which allows her to teach and provide trainings to individuals or companies in using eBay as a platform to trade online. She has taught over 2,500 people in Malaysia and Singapore about 'How to start their business in eBay'.
She has also completed 'Train The Trainer' Program in 2011 introduced by PSMB (Pembangunan Sumber Manusia Berhad).
In August 2013, MPH Publishing Group published a book she wrote called 'Master Class Series: Carol Fung's Guide to Online Retailing). During her book launch, Dato' Hafsah Hashim (CEO of SME Corporation Malaysia – SMECorp) was invited to officiate her book in front of 100's of entrepreneur & press.
Her book has been reviewed as one of the easiest guide book to follow specially for newbies who wants to start their online business.
Carol's Guide Book was awarded 'Best Sellers of 2013' by MPH, one of the most sort after book in MPH's Masterclass Series.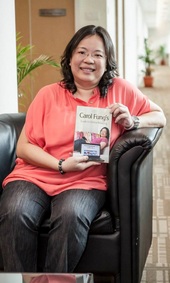 Share this page with your friends...